Container Sales
Refrigerated containers
All used reefer containers are fully refurbished, painted and guaranteed structurally sound and 100% wind and watertight.
---
Our reefer engineers are also on hand for service and repairs, comprehensive pre-trip inspections, warranties, steam cleans, monitoring of laden cargo within the depot and on the terminal, modifying and updating refrigeration equipment, data downloads and on-site repair and maintenance services.
Reefer machineries are extensively tested by our manufacturer trained engineers and supplied with a valid pre-trip inspection (PTI).
Reefer container repairs
All repairs are carried out with Original Equipment Manufacturer (OEM) parts and as an authorised service centre for the main refrigeration machinery manufacturers you can be sure that all repairs and servicing have been carried out to the high standards that you expect.
Reefer container specifications
All used reefer containers have the following standard specification:
Requires 32 Amp 3phase power supply with a D-rated (motor rated) circuit breaker
Food grade stainless steel interior panels
Stainless steel exterior construction
Microprocessor controlled, offering precise temperature control
User friendly controls
Extruded Aluminium floor with raised 'T' profile
Double doors at rear
All models can be used as a freezer or chiller; most units can control temp from -25c to +25c.
Certain models can control temp from -35c to +30c
20ft reefer unit – internal volume 28m3
40ft HC reefer unit – internal volume 68m3
Convention for Safe Containers (CSC) certificates can also be provided for shipping purposes. Containers can be delivered worldwide.
Non-operational reefer containers
Non-operational or 'non-op' reefers as they are known are also available for purchase. These are used reefer containers that have had the machinery components removed, leaving an insulated panel in place. The structure of the reefer itself, however, is sound which means that you can enjoy the benefits of the insulation in the container.
The insulation helps to maintain an ambient internal temperature regardless of the temperature outside and prevents condensation from forming inside the container. This means that they are perfect for storing cargo which is very sensitive to temperature fluctuations and moisture; examples include dry foodstuffs and archived paperwork.
---
Container Sales
New refrigerated containers for sale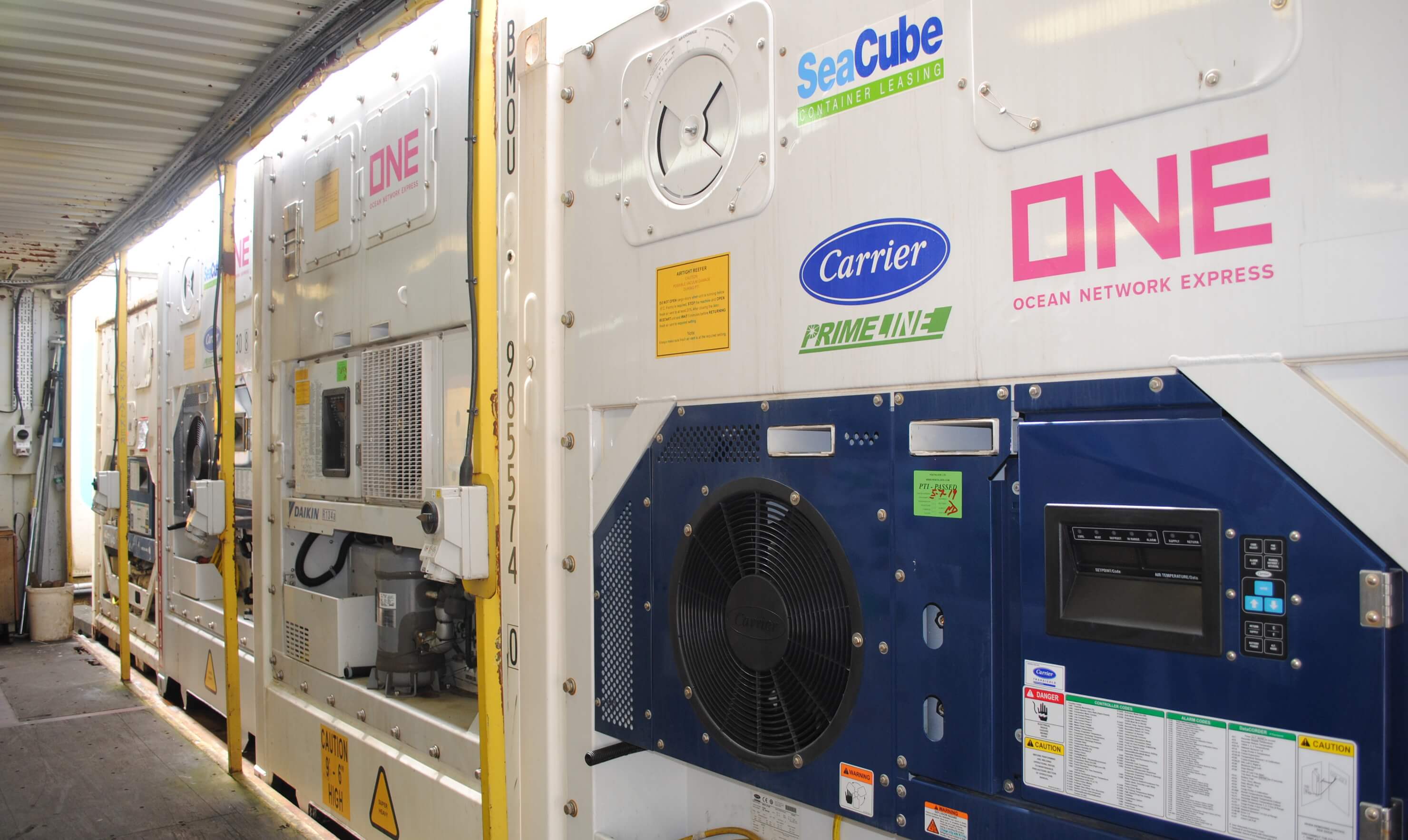 We can supply brand new Refrigerated containers, all with manufacturer warranty for peace of mind. These are supplied brand new, only having done one trip from the factory to our depots.